CHA 2009
GOLDEN will have a booth at the Winter 2009 Craft & Hobby Association Convention & Trade show from Jan. 24-28, 2009 in Anaheim, California.  Visitors will have the chance to learn more about the innovative new Digital Mixed Media products from Golden Artist Colors and how they can be incorporated into Altered Books, Collage, Mixed Media techniques, and more.  In addition to learning how to use the new Digital Grounds, artists will also have the chance to explore other materials in the booth such as Drawing Grounds and the new GOLDEN OPEN Acrylics.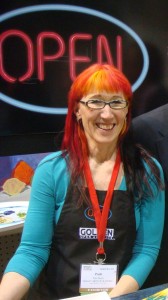 GOLDEN Working Artist Program Director, Patti Brady will be present at the booth discussing her new book, sure to inspire every artist!  She will also be holding a book signing in the North Light booth during the show.  In Patti Brady's book, Rethinking Acrylic, Radical Solutions for Exploiting the World's Most Versatile Medium, she explores the versatility of the acrylic medium and its ability to mimic oil paint, watercolor, gouache and encaustic.  In order to give artists the best hands-on opportunity to explore and learn about GOLDEN products while visiting the show, Patti will be teaching two workshops.
2009 Pricing
Please remember that new product pricing will be effective February 16, 2009, so place your orders now and save!
CAA 2009
Another tradeshow that GOLDEN has been a longtime supporter of and will be attending in Los Angeles in late February is the College Arts Association (www.collegeart.org) tradeshow.  In addition to featuring the new OPEN Acrylics and Digital Mixed Media products, GOLDEN will also focus on Silverpoint / Drawing Ground, two new Fluid Historical Colors and three new Fluid Color Travel Interference Colors.  A new project that booth visitors are sure to be interested in is an effort supported by GOLDEN, but led by Mark Gottsegen, the Administrator of the Art Material Information and Education Network (AMIEN).  Gottsegen is developing a testing program to begin to monitor how well outdoor murals withstand the various environmental conditions which they face.  Using portable equipment over time, AMIEN will begin to assemble data that will replace a good deal of the conjecture and rumor with real information.  AMIEN is currently in the beginning stages of this work and commitment to collaborate with Rescue Public Murals (RPM) as both of these organizations advance the goals of preserving public art for generations to enjoy.
Stores Carrying OPEN Acrylics
For a listing of retailers carrying OPEN Acrylics, go to Golden Paints Store Locator.  Great introductory terms are still available.  Retailers ordering now can still receive an extra 10% as part of the new placement program.  Contact your MacPherson's sales representative for details.
If you have any questions about any of the above information, please contact your MacPherson's Sales Representative