Cassie Brehmer, MacPherson's Account Manager

In my time as a buyer and retail manager, before I came to MacPherson's, a dedicated member of our retail team actively worked on building and maintaining kit business for at least five months out of every year. From reaching out to teachers and following-up, and following-up…and following-up, to picking brands and price points for professors unfamiliar with the options available, to ordering and finding appropriate replacement items, to assembling, spot checking and labeling kits, to distributing them to students and their parents unfamiliar with the uses or costs of materials…it's tough work. With every kit success comes many (many) failed attempts at cultivating that business. Based on my experience, I have compiled a list of best practices for building and maintaining your kit business.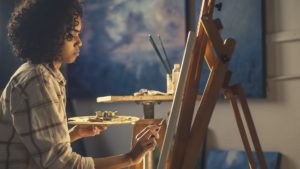 Your Value As An Expert
First, remember that you are a valuable resource. Your staff is knowledgeable, you have access to a breadth of materials, a familiarity with the pros and cons of different brands and a store full of inspiration and opportunity. Approach your conversations with confidence: you are an expert who can provide a professor's students with the tools for success, not just for a semester but for their entire college careers, and after graduation as well.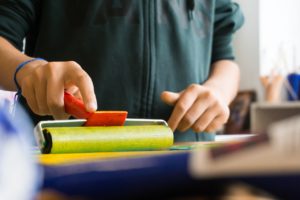 Pitching The Kit
You've given yourself a pep talk, identified a target and you are ready to dive in. Now what?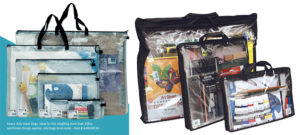 Establish A Connection
In the store.

If a professor is in store, have a generic completed kit handy by the register that you can pull out and show off, or have displayed behind the register. Gauge their interest and follow up right away, when their interest is piqued.

Reach out

to every professor you can on an infrequent but consistent basis. A simple message or "friendly hello" explaining that you'd like to help them ensure their students have what they need in class can mean success down the road. Be sure to avoid busy academic times like midterms or finals while communicating.

On their turf.

Connect with the art department chair and ask to attend an upcoming staff meeting to introduce yourself. Bring samples, goodie bags, your business card and recent sales flyer. Send a heartfelt thank you note for the invitation and follow up on a consistent yet appropriate basis. If you are unable to make a connection, consider a mailing to each professor's physical inbox. Be careful to avoid spamming email inboxes, as a lot of university e-mail systems have a spam block in place, you can blacklist yourself without even realizing it.

Tip: Share our kit flyer with your professors!

Don't be discouraged: Some universities have established connections and required resources to get their students supplies—this information is a gift. You can put your energy elsewhere.

Create your own opportunity.

A professor who has never heard of your store has no reason to entrust their students to you. Consider hosting an in-store "teacher appreciation event" with goodie bags, try-it stations of the most common kit items, and even wine. Attend school fairs and create a "class-list database" in store by requesting course materials lists from local schools. Collecting class lists prior to the semester is not only a great way to ensure you are properly stocked, it will add value to students shopping with you for the first time; you already know what they need, and this knowledge allows you to provide an exact kit quote to that professor for an upcoming semester.

Curious about the most common kit items? We've compiled the top kit items coming out of our DCs on this list.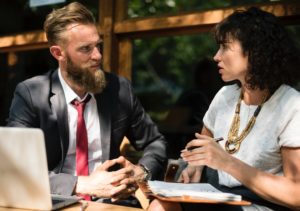 Keep The Conversation Going
Authentic and personalized

. It is very easy to identify mass-emails—which can be a turn-off. Be sure to personalize your communications, do your homework; check for course lists and materials lists on the school's website, remember what materials they've used in previous semesters or send them a "new product" list relevant to their classes.

Foster a sense of community throughout the year by going to, or sending your staff to, student and professor art shows at your local universities—artists supporting artists!

Short, sweet and to the point: make the process as easy as possible

. In my experience art professors

hate

their email. They neglect it and sometimes ignore it completely. Providing a two- or three-step solution from expressing interest, in person or online, to ordering a kit will make everyone's lives easier.

If the professor knows what courses they are teaching, tell them "All we need is your course materials list, and we'll get back to you with a quote." If they don't yet have their courses set or their materials list, provide them with a generic Drawing, Painting, Sculpture, etc kit worksheet—digital or hard copy—and ask them to indicate brands or items they'd like to add or remove.

Send a quote with suggested replacement items to either drive up the quality or drive down the cost. Because this conversation is often COST motivated, keep your willingness to support their students' financial needs at the forefront of this conversation.

Confirm the date that materials are needed by, the number of students, and provide the professor with a handout that directs their students to your store with a clearly labeled materials list complete with pricing and total cost.

Tip: When ordering your kits, allow yourself a week long window before classes begin to account for any last minute changes from your professor or an adjunct suddenly assigned to this course.
Timely

. In today's world of instant gratification, it is inappropriate to have more than 24 hours go by without a response to an inquiry. Always return a quote within 24 hours of receiving a list; no exceptions. Same goes for delivering kits. Stay in communication with the professor or department chair on any and all delays. If you have a smaller staff, consider assigning a senior staff member this task as a priority before the BTS season begins.
It is easy to get a quote of your cost and kit MSRP through the Kit Center on MacPhersonArt.com. If you have questions on using this tool, reach out to your account manager.
Forward-Thinking Sales Strategies
Be cost friendly.

Consider adding a blanket discount to all kit items—even 30-40% off MSRP. You may not turn a huge profit on

all

items in the kit, but gaining the business and getting students in your store should be a goal. There is always the opportunity for impulse buys or add-on items along with the kit purchase.

Expand your community.

Be sure to include any relevant marketing material, upcoming sales or classes, a coupon, or a freebie into your kits—you're creating a customer for possibly years to come, so start off on the right foot.
Questions? Reach out to your account manager, and we'll be happy to help you come up with a gameplan.