Catherine Monahon, Copywriter, MacPherson's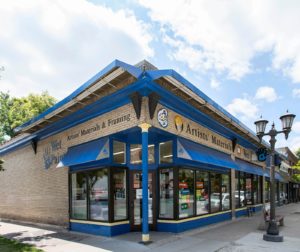 Wet Paint is an independently owned store in St. Paul, MN that is well known for their social media and marketing verve. They organize regular in-store events, classes, weekly newsletters, an interactive website, regular social media postings via Instagram, Facebook, a bit of Twitter and Google+ content as well as a blog on WordPress and videos via YouTube. They also maintain a steady flow of print materials. In short, they do a lot. This dynamic, multi-platform strategy is made possible by the dedicated Social Media and Marketing team: Kristina Fjellmen and Chris Nolt.
Kristina and Chris are both working artists with years of experience on the sales floor. Kristina works full time as the Marketing Manager. She recruited Chris to help with the social media about a year ago. With Chris focusing on social media, Kristina works full time on the website, email digest, print materials and marketing strategies. Chris spends 1 to 2 hours a day on social media as well as one full shift (8 hours) on content creation and curation each week. Both are artists in their own right: Chris is a mixed media artist, working with ink and watercolor; he also designs laser cut jewelry and has dabbled in music production, printmaking and writing methods. Kristina works with textile or fiber-based sculpture and installation and is also a theater artist. Both of them mention the Wet Paint community as a huge draw to working there. "I think we are pretty lucky to like our jobs," Kristina notes. "I know that enthusiasm influences how we approach the marketing and social media work we do."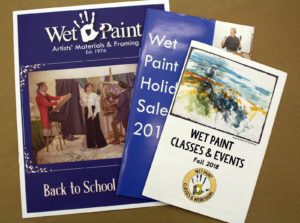 While Wet Paint maintains a strong online presence, they haven't neglected print materials. Many of their customers like to take home a pamphlet or schedules of events and classes or a catalog of sale items. The consistent production of schedules and catalogs in combination with a "steady drip" of digital content allows for a broad customer reach that respects a preference for paper while also engaging with click-happy millennials.
Breaking It Down
The following list is designed to be helpful for everyone, wherever your store falls on on the marketing and social media spectrum: from tentatively googling "Why do I need an Instagram?" to having a dedicated social media team.
1. Holy Trifecta: Products, Services & Real Life Interactions
Much of Wet Paint's content touches one, two or all three points of this trifecta. Their posts showcase a product, clue the audience into an experiential opportunity and/or reference real life interactions with customers.

A weekly special called "Customer Questions" features real life in-store questions from customers with answers provided by a rotating list of staff members. These posts generate conversation and interest, as well as reminding their customers that they have an educated and trusted team of artists on staff. Other store-to-social connections are video demos of new products, favorite products, or products that people have lots of questions about. Conversations on the floor inspired Chris to create this video, which features the Wet Paint community while demystifying the pronunciation of a paint color:
When content stems from real life connections, relationships and interactions in the store, the bridge between the abstract, digital realm of the internet and your very real store strengthens. New followers and subscribers become customers.
2. Identify Your Voice (And Use It)
The bottom line: be authentic. The passion and commitment Chris and Kristina have for the community of artists and art enthusiasts who step into Wet Paint shows. Chris puts it well:
"Everything I post, I want to make it feel like it's a conversation in the store. Straightforward, honest and casual. All of the staff here are working artists with a lot of character, and customers get attached to certain people. They'll ask for them on the phone, they'll come in on specific days when that person is there. I'm okay with adding child-like excitement to my copy, or talking about when something is adorable or cute. We had a whole post all about how cute Japanese pens are. Because they are! And people loved it."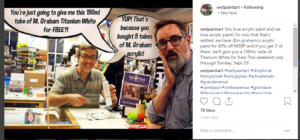 Wet Paint's instagram is chock full of personality, character, silliness, artsiness and content that gets people pumped up about art supplies. To learn more about how to develop your store's voice, here are some useful tips.
3. Save Time With A Little Tech
If you don't have a dedicated team for social media, that's okay. These strategies can be scaled down as needed based on what resources and time you do have. Try synching the social media platforms you use (Facebook, Instagram, Twitter, etc) with a social media management tool that "funnels" all your posts to the proper channels. These tools allow you to create multiple versions of a single post for all the platforms you use and post to all of them with just one click. Pre-schedule your posts for the week so that you are not thinking on the fly everyday—it will post automatically.
4. Consistent & Imperfect
Consistency is key. It doesn't matter if you post four times a day on three different platforms or twice a week on one… just pick a method and stick with it. Let followers or subscribers know what to expect, and they'll keep coming back for more. Being consistent means giving up perfection. You can waste time hesitating over language in an Instagram post, but it lasts about a minute on the internet. It may drive someone to click, come into the store or buy something but if you mess up, no one is harping on it. Think of your online presence as a growing portfolio. Practice makes progress!
…OK, Go!
Once you get a handle on your content, clarify the way you'd like to talk about it, set up a realistic system for posting and commit to a "just do it" attitude, you are ready. Whether you are dipping your toe into social media or looking to revamp your marketing strategies, these tactics can help you strengthen relationships, build new ones and get your products and services to the people. And, in line with the "Wet Paint Way," try to have fun while doing it!