Catherine Monahon, Copywriter, MacPherson's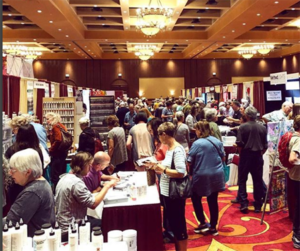 In September, Account Manager Mia Fesmire and Brand Marketing Manager Ariana Faustini represented MacPherson's exclusive brands at a three-day art supply extravaganza in Santa Fe known as Artisan Expo. The bi-yearly consumer show is sponsored by Artisan Santa Fe, a retailer with locations in both Santa Fe and Albuquerque. Artisan Santa Fe founded Artisan Expo in 2000, and the event has grown over the years to become the largest art materials and instructional event in the world! They host over 100 half-day and full-day workshops led by expert instructors, as well as a vendor trade show where over 80 vendors cater to artists who travel from all over the country, eager to learn and ready to restock their studios. We wanted to share a few takeaways with our community, because we believe the Artisan Expo model is a profitable sales strategy for retailers when replicated on a small scale.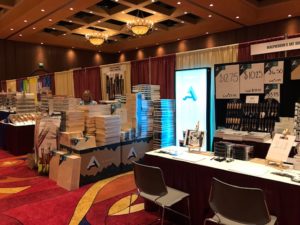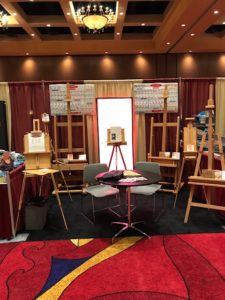 Our experience: this year Artisan Expo saw record-breaking attendance with participation up 25%. We provided instructors with Art Alternatives canvases as well as assorted RGM palette knives to promote the product and encourage attendees to visit our booth to get the same products they use in their workshops. In addition to the samples, we brought Art Alternatives wood panels and canvases, MABEF easels, POSCA markers and Derwent Inktense sets.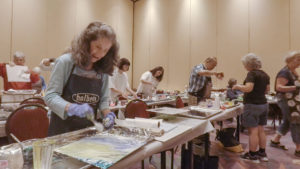 Artisan Expo attracts creatives who have the resources to invest in their craft, either by enrolling in a workshop or by taking home higher end supplies. How do they do this? The answer can be broken down into three parts: 1) a thoughtfully put together long-form workshop, 2) taught by an expert 3) in conjunction with a targeted sale.
A Long-Form Workshop
There is a reason that college-level fine art courses are three hours, sometimes five. Art takes time. While quick demos or make and takes are strategies that work for some customers, people with artistic talent who are hungry to learn will revel in the extra time that a three or six hour workshop affords. This extended time helps artists gain confidence with a new technique, making them more likely to purchase the materials needed to continue practicing. They will leave rejuvenated and focused, inspired by the expert staff or instructor who spearheads the class. Some retailers are already taking this approach: this summer we covered an example of a successful two-day event at Dots and Doodles, with support from Royal Talens, which led with a movie screening of Loving Vincent followed by a painting workshop the next day. If you have the space and time to host an afternoon or full day workshop and have a community of artists to tap into, it is well worth the investment.
Aside from the length of the workshop, the title (and of course, the content) is worth focusing on.
Artisan Expo hosts workshops on book making, sumi ink, watercolor, encaustics, jewelry making, gilding and more. Choosing a topic, technique or material and titling it in an inventive way draws in a specific crowd that wants exactly what they are serving up. When glancing at the title, customers imagine what they might create and get inspired to take the next step: enroll!
Some well-titled workshops that caught our eye:
Inventing Your Own Alphabet: Understanding Letterforms and Calligraphy

Using Encaustics with Mixed Media Over Photographs

Layers: Capturing the Santa Fe Landscape in Wax

Think & Paint in Aesthetic Categories

Inventing Cityscapes with Zentangle® Inspired Art

How To Travel Anywhere and Paint Small Watercolors
Great titles often include strong verbs. What will they be doing? Inventing, capturing, traveling, thinking. The title also specifies a medium in conjunction with a style (incorporating photographs, broadening aesthetic style, Zentangle, plein air painting on the go). The site-specific class attracts people with an attachment to your community's landscape or cityscape. 
This specificity is key. Spending the day (and the price of tuition) on "Acrylic Painting 101" is not very motivating; try "Light Up Your World with Acrylic Painting on Dura-Lar Film." By being more specific, you reach more people. You are highlighting a technique and connecting it to a visual (lighting up your world) or another medium (watercolor). Reaching the attendees who are actually interested in what specifically the class is focused on, you're (probably) more likely to turn those artists into avowed fans of your events.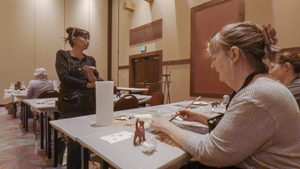 Taught By An Expert
Many of us know from experience that a good teacher can propel us forward in directions we never thought possible. The instructors—whether they are expert artists on your staff or outside hires—will make or break this experience. Workshops are a great opportunity to pair expert artists with relevant product, and to work with vendors to feature specific items. Make sure the instructor is well-acquainted with the product you are spotlighting- they are advertising the expertise your customers should expect from you. Fine artists and enthusiasts love to get technical, and seeing why a specific product works best for a nuanced technique will keep them interested and engaged.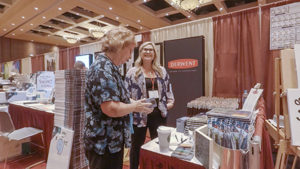 A Targeted Sale
When class is over and students are on their way out the door, they discover those very products they were working with in class are on sale! Offering a sale of specific items in conjunction with the workshop is the finishing touch that seals the deal. Once someone has already invested in a high quality half-day or full-day workshop, throwing in a handful of art supplies or an easel that will allow them to recreate the experience at home and practice techniques they are committed to will be a no brainer. Ensure you are well-stocked in any products used for the class, and have the instructor/staff member offer to walk students through your store/booth to answer any additional questions they may have.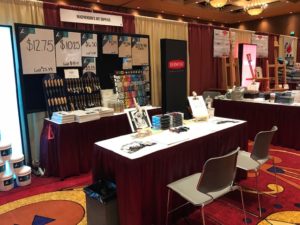 Alternative: Compromise With A Try-Table
If you don't have the resources or space for a workshop, having a "Try-Table" or a "Make It Take It" station is a great way to engage with artists. While the paper pads on various displays are useful for seeing what a marker or pencil looks like on paper, providing chairs and a full size surface allows people to get comfortable and really dig in. We reached out to John Kittles of Kittles Art Supply in Arizona to learn more about their successes with their custom-designed Art Bar. Click here to read the feature and discover how you might set one up in your store.
*Pro tip: If you organize a "Make It Take It," include instructions as a part of the takeaway, and add hashtags and encourage people to share their work using on social media, using the hashtags. It goes a long way to expand your reach!
Are you already replicating Artisan Expo small scale? Celebrating the recent success of a half-day or full-day workshop? We'd love to hear about your experience and share it with our community. Share your story with us at ArtDogBlog (@) MacPhersonArt.com