ROBERT Z. SIMMONS 88 years old, died in Palm Beach Gardens, Florida on October 21, 2008.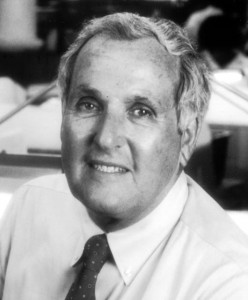 His career began as a cartoonist and his work appeared in publications such as Stars and Stripes and the Saturday Evening Post. The company he founded in 1952, Robert Simmons, Inc., distributed artist materials for over 40 years. It became famous among American artists for its Roberts Simmons Brushes which were endorsed by Norman Rockwell and Andrew Wyeth. Bob won the 2003 Lifetime Achievement Award from NAMTA. He became an accomplished painter himself.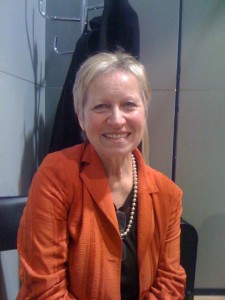 Rosi Kring, long time export manager at Lyra in Germany, has left the company to pursue other opportunities.

Shar Sosh joined the sales and sourcing team at the F.M. Brush Company as of October 1. Shar is an industry veteran who brings a wealth of knowledge and experience to F.M. Brush.

Michael McCooey, president and CEO of Plaid Enterprises, was elected chairman of the board of directors for the Craft & Hobby Association(CHA). Michael replaces Jim Scatena, CEO of FloraCraft, who will remain on the board as past chair. Michael has been president and CEO of Plaid, an Atlanta-based manufacturer and global distributor of arts and craft supplies, for 14 years.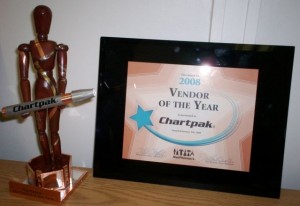 Last week Chartpak was named The MacPherson's 2008 Vendor of the Year. The people of Chartpak exemplify what we value. They listen to us when we have issues and work to find the optimum result. They are true partners for us and our collective retailer community. We were really excited to honor them with this award, and to share our appreciation for their support.
Chartpak Honorees:
Steve Roth, President
Tom Richards, Executive Vice President Marketing
Steve Rossney, Sales Representative
We also recognized Chartpak Service Representative, Tiffany Boutiette, with a MacPherson's Vendor Spotlight Award (an award from MacPherson's employees to recognize outstanding service.)
Well regarded Minnesota rep Tom Klug from C2F died earlier last week. Memorial plans have not yet been announced. We send our most sincere condolences to his loved ones.
World Supply in Hollywood, California closed its doors last week.
Keith Eccles, Alvin's long-time Canadian sales representative, has parted ways with the company.